Grain Shuttle Facility Handles Large Volume of In and Outbound Trucks
Ronda Baker, 7 months ago
2 min

read
159
Frenchman Valley Coop (FVC) grain elevator in Culbertson, Nebraska with shuttle train loadout enhances their response to producers by handling a large volume of inbound and outbound trucks.
About FVC Grain Elevator
The facility was designed and built for shuttle loading and can loadout 60,000 bushels an hour into outbound Burlington Northern Santa Fe shuttle trains. Even though it was mainly built for shuttle loadout, it can hold 1.4 million bushels and another 1 million bushels in temporary capacity. With separate inbound and outbound scales, the facility has the capacity to receive 34,000 bushels an hour.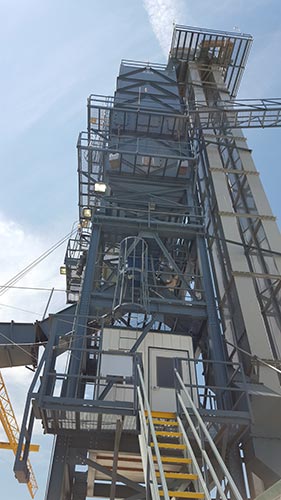 Sophisticated and Smart Technology for Grain Facility Monitoring
All operations throughout the facility are computerized and designed to be fail-safe. Automation with HMI software for this facility was conducted by Kasa Controls & Automation engineers and programmers.
Selecting a destination of a load is simplified with Source-Destination automation. Operators select the destination and equipment starts up and opens gates from the end point back to the source. Commodity checking is enabled automatically to help prevent the risk of commodity mixing.
The main overview screen displays the entire system including all running paths, amperages, gate positions and utiliation. Every minute a snapshot of the system is taken and stored in the database and can be viewed from the historical overview screen. In the event of a fault, operators can use this feature to scroll back in time to view what was running, when a conveyor faulted, where the commodity was going and what type of fault occurred in the system.
Included in this project were high level switches, gate position sensors and plug switches. Sensors, including speed, bearing temperature and rub blocks were installed as well. The Hazard Monitoring equipment provided was integrated into the automation by our engineers on this project.
Grain Elevator Safety is a Priority
Kasa's team of programmers excel at developing a user interface that is simple to use, intuitive and performs automation using the cooperative's rules. Programmers worked with FVC to minimize user mistakes and automate the proper shutdown process from a failure point to the destination.
For this project, we teamed up with CMC hazmon systems to provide the trending and logging of historical temperatures for all sensors, as well as RPM (speed) on belts and legs. Hazmon includes motion/slowdowns and rub blocks on bucket elevators and belts, as well as, bearing temperatures.
Operator's manual that contains screenshots from the HMI and instructions on how to set up paths, handle alarms, review hazmon data and create reports was included to ensure everyone is knowledgeable of the operation of the system. Manuals are also included within the HMI interface.
To learn more about how Kasa might be able to elevate your grain operations, contact us today.
Related posts