Grain Movement Simplified with Improved Controls, Features and Monitoring
Ronda Baker, 2 years ago
8 min

read
633
Strategic location for Consolidated Grain & Barge (CGB) grain terminal in Defiance, Ohio, provides 90 rail car shuttle loadout on the CSX railroad and grain storage.
About CGB Grain Elevator
The slipform facility with 2 steel bins provides storage for more than 2 million bushels of grain, along with the capacity to load 90 rail cars on a loop track. CGB has an extensive network of nearly 100 grain elevators and terminals across the country.
HMI Screens Help our Customers Monitor their Grain Facility
Kasa programmers worked with the electrical company for this project, supplying a PC HMI system with features that included: a complete system overview screen, as well as:
Receiving screen
Rail loadout screen
Alarm screen
Historical overview screen
Drying screen
Hazard monitoring sensor status
Maintenance screen for adjusting set points
Preventive maintenance screen for equipment run times and maintenance alarms
Bin board commodity info screen
Level Monitors using BinBob System Integrated with HMI screen
Grain Movement is Simplified for Operators
Operators within the facility are given source/destination path control to select the source gates and destination bin or loadout. The system automatically starts up the equipment and opens gates from the end point back to the source. If a fault occurs, the source gates close and the path will purge and shutdown from the failure point out to destination.
The commodity check feature of this software keeps operators from accidentally mixing commodities. The receiving operator selects what commodity is being received in order to select the path the grain will travel. If the destination bin commodity does not match the receiving selection, the operator will not be allowed to enable that path.
CGB's manager stated, "I like that it's very easy for new or inexperienced operators to look at the overview screen and see exactly what is going on with the elevator. It's nice that the equipment is color coded so you can see what commodity is going to which bin."
Escalation Rules for Alarms, Enhanced with Text and Email Notification
All faults that cause equipment to stop, as well as status alarms, warnings, and preventive maintenance alarms are displayed with a full description of the alarm and piece of equipment that faulted.
Email alarms were included with this project to notify specified personnel if a fault occurs.
Blend Recipes Improves Consistency During Loadout Process
Blend gates have a Blend Recipe screen that allows the setup of configurable gate positions for specific blends from bins on rail loadout. Recipes can be selected to load pre-defined blend position settings into the reclaim gates ensuring consistency across operators.
A Global Blend slider was also included for increasing or decreasing all of the source gates proportionally while blending for multiple bins for rail loadout.
"Winter Mode is Slicker than Snot"
In the winter, equipment like belts and distributors are in danger of freezing up. With the push of one button to activate Winter Mode, specific equipment is scheduled to run or exercise for a designated amount of time at preset intervals. Winter Mode then stays activated until deactivated by the operator after the threat of cold weather is over. CGB's employees say, "Winter Mode is slicker than snot!
Maintenance that Matters with Smart Controls
To prevent coupling slippage for variable position gates with % open feedback, auto calibration was included. When the shaft to transmitter gets bound up, the coupling slips and can cause a 0 to 100% range of motion to negative value on closed end and less than 100% on full open. This can cause problems when the PLC is telling it to go to a position that it cannot achieve. Our programmers solved this problem by writing a program that allows the operator to TEACH the sensor from a maintenance access screen. When the operator runs the gate to full open limit and then runs it to full closed limit, the PLC memorizes that range of values from the transmitter and automatically scales the range from 0 to 100%.
The preventative maintenance program feature (screen) has a resettable and non-resettable life cycle timer for each piece of equipment and a field for entering notes about that piece of equipment; problems with it, maintenance performed, etc. An alarm will also indicate if maintenance is required on a piece of equipment when the resettable timer has timed out. When maintenance is performed, the timer is reset, in hours, until the next preventive maintenance is needed on that piece of equipment. A free form text field allows for entries by the operator for maintenance actions that are performed or any other information they may want to log.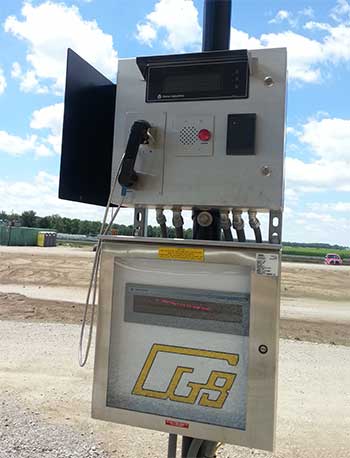 Improving Hazard Monitoring and Procedures
Kasa Controls & Automation also integrated a CMC hazard monitoring system. The hardware allows for the trending and logging of historical data which includes temperatures for all sensors and RPM (speed) on belts and legs. It also included the motion/slowdowns and rub blocks on bucket elevators and belts, as well as bearing temperatures.
Another valuable feature of the controls provided for this project was the historical overview information screen. Every minute, a snapshot of the system is stored to the database. The main overview screen displays the entire system and all paths running, amperages, gate positions and utilization. Operators are able to scroll back in time, using this feature, to view what was running, when a conveyor faulted, where the commodity was going and what type of fault occurred in the system.
Monitor the Power – Manage and Control the Energy Usage
The installation of a power monitor allows for power usage data to be logged, which is a huge cost-saving feature for both large and small facilities. For this large facility, alarms were installed to let operators know when they are exceeding demand and usage thresholds, which can result in higher electric bills. It allows for business decisions to be made, such as to continue loading and expect the higher bill, or to shed some load (such as aeration) until the demand drops back down. Reports can be utilized with this feature to synchronize with the electric bill. Trend of demand and usage reports can be used to find peaks that may have caused additional energy charges. It provides the ability for energy management at the facility.
Equipment Controls and Features from any Computer
Conveyor utilization was installed allowing conveyors to be programmed with set points for normal maximum operating capacity with leg buckets completely full on a leg at this set point for each commodity. This gives operators the ability to see how hard the equipment is being pushed. Indicators were also used to tell operators if they are in the green, yellow, or red on utilization capacity. Historical utilization charts and reports were included with the installation.
All bucket elevators, belts and drags were programmed to show running amperages on the screens. They can also be viewed on the trend screens. The actual running amperage can be displayed for each conveyor on the overview screen along with the warning set point and hi level amperage shutdown fault set point.
The automation screen that programmers and engineers installed in this project allows for the stop/start of aeration fans. A timer system is included to allow the operator to set a duration to automatically run the fans on each bin and then shut them off.
Access to Important Settings is Ensured by Security Levels
Manager level with login and password is also a requirement to access the maintenance screen included in this software. This screen allows the adjustment of all conveyor clearing timers, temperature, amperage alarms and warning set points.
Agris One-Weigh Integration for Unmanned Pit Automation
Integration with Agris One-Weigh software provides the ability to receive Agris data to the controls and automation. Agris sends the truck tag read ID, Commodity, Grades, etc. when a truck arrives at the pit. It required the purchase of a small reader kiosk to be installed at each truck pit. When the truck arrives at the pit, the driver swipes his card, the screen then prompts him to wait for a green light to enter the pit (provided he is at the correct pit), or it will notify the driver that he is at the wrong pit and give him the pit number where he is supposed to be. Kasa developed a bin determination routine which evaluated the grading factors of the commodity and determined the best fit bin for the load of grain. A traffic light allows drivers to enter the correct pit, where a sensor will detect the truck and setup the path specified by the result of the bin determination routine. Another green light for "driver dump" will tell the driver when to start unloading. The pit operator can acknowledge the path requested and start the equipment or select a different path. In full auto mode, the path requested by the Agris system will automatically set up and run without operator verification or intervention.
To learn more about how Kasa might be able to elevate your grain operations, contact us today.
Related posts