Automation of Grain Shuttle Train Facility Improves Safety & Quality
Ronda Baker, 7 months ago
3 min

read
158
Mid Kansas Coop (MKC) high speed grain elevator in Canton, Kansas with shuttle train loadout uses technology to improve customer wait time and shuttle loadout time, while improving safety and quality. 
About MKC Grain Elevator – Canton, Kansas
This facility is a cement slip form elevator with a holding capacity of 1.15 million bushels. It is capable of receiving up to 60,000 bushels per hour with three legs running at 20,000 bushels per hour. The system is fully capable of loading out 110 rail car shuttles at a rate of 100,000 bushels per hour with an annual loadout expectation of 17 to 20 million bushels per year. The facility's layout allows for both trains and trucks to move constantly with the only privately owned bridges over the railroad tracks on the Union Pacific Railroad. Safety was a high priority in the development of this facility. Read more about the MKC Grain Elevator and the project.
One Location for Managing Variety of Equipment Improves Efficiency
Kasa Controls & Automation programmers provide one location (see Level 4 Automation for more information) for managing and integrating many different pieces of equipment and systems. MKC uses overview screens, monitoring screens, alarms and reports that can be viewed from any computer for easy diagnostics and reviews of the system. Equipment status can now be viewed on screen at one location and the following are expected to improve efficiency with only 4 to 5 employees running the facility: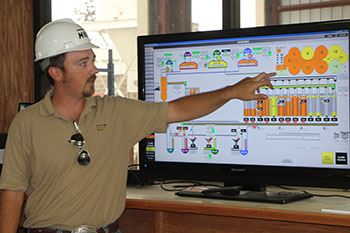 Flow of grain – source to destination and commodity
Distributor position
Bin temperature cables
Gates
Terminals
Utilization (leg cup fill by commoodity for flow adjustment)
Bearing, rub and speed sensors
Hi-level sensors (for bins)
Magnahelic gauge (tells you when dust socks need replaced)
Radar level sensors (% of bin levels for inventory)
Equipment running at capacity
Commodity verification
Improving Safety for Employees
One of the ways to make employees safer is to decrease the risk associated with unnecessary employee movement to turn on remote pieces of equipment or check their status. The flow of grain and amp readings or gate positions are viewed at any computer that has rights to the Kommand Center.
Hazard monitoring is viewable at one location, with real-time trending. If bearings are repeatedly overheating, they may eventually fail. With real-time and historical trending, preventive maintenance can be performed instead of reactive maintenance.
In addition, safety criteria are programmed into the system. The conveyance system is not permitted to run when the dust collection system is off. (The NFPA allows facilities to run their system if the dust collector is not running as long as there is a plan in place to handle the lack of dust collection.) High amperage and over capacity warnings stop the source of the flow of grain and faults stop the conveyors upstream while allowing converyors downstream to clear out.
Automation Improves Grain Quality
Konnection controls and software not only enhanced the safety of this facilities employees, they also improved the quality of the grain stored in this facility.
Advanced aeration monitors are used to check the outside temperature and humidity along with the grain temperature and humidity in the grain bins. This allows employees to control the moisture and temperature of the grain with aeration fans. This system uses a formula that results in an equilibrium of moisture content to maintain a high quality of grain. There are also alarms in place to warn and notify employees of hot spots to prevent spoilage.
Blending Software Reduces Mistakes
Customers who purchase a commodity from the elevator typically request a specific protein content or other specification.The commodity is blended out of the facility's multiple bins to the exact specifications of the customer and conveyed at more than 60,000 bushels per hour into the rail cars. Even a small misjudgment in the blending process creates a big mess in a short amount of time. Blending software created by Konnection helps make decisions behind the scenes and prevents this from happening. One minute at the wrong blend amounts to over 1,000 bushels of grain (think of slightly more than a full semi-truckload) that would not meet the customer's specification.
To learn more about how Kasa might be able to elevate your grain operations, contact us today.
Related posts