Panel Build Case Studies
Not only does Kasa offer a wide array of engineering and control panel production – we hold a proven track record for supplying quality controls. Additionally, each project receives the attention and involvement of senior management to ensure that progress moves smoothly. Most importantly, Kasa Controls & Automation understands the importance of designing panels with a sense of craftsmanship.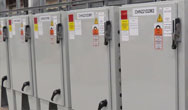 Kasa designed a custom solution that met the customer's timely needs providing a high standard of quality and exceptional customer service.


---
Kasa's proven track record of supplying quality controls allowed their customer additional flexibility to focus on other needs besides control panels. 


---