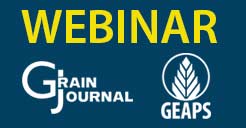 Webinar: Energy Management: Making Financial Savings a Reality
adm, 1 year ago
1 min

read
311
Education Webinar Series from Grain Journal & GEAPS
Presenter: Syd Panzer, Konnection a division of Kasa Controls & Automation
Wednesday, Oct. 11, 2017 • 10 a.m. Central Time
Do you review your electric bill every month? How much money could your facility save by implementing energy-saving strategies and tactics?

Find out during a free webinar from GEAPS and Grain Journal. Syd Panzer will recap his popular Exchange 2017 presentation on leveraging energy management for financial savings. The session will review operation strategies and automation options that may affect your energy bills.

Panzer has provided controls and automation in a variety of industries including automotive, aerospace, and grain handling for Kasa Companies over the last 12 years. His team develops products like KTrack for traceability and Energy Management System.
If you have a credential from GEAPS and Kansas State University, this session qualifies for one-tenth of a continuing education unit (CEU). To receive credit for the webinar, email Katya Morrell for an online quiz.
To register for this free webinar, click here.
Any questions, call Webinar Coordinator Tucker Scharfenberg at 217-877-9660.
Related posts