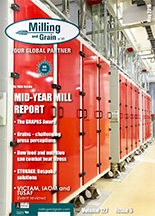 KTrack Qualifies in Top Six at GEAPS 2016 Idea Exchange
adm, 1 year ago
2 min

read
277
Konnection, a division of Kasa Controls & Automation, is happy to announce that one of our "ideas" presented at the 2016 GEAPS Idea Exchange was chosen by Milling and Grain as one of the six best ideas presented at this year's conference in February!
KTrack Inventory Management is a product of Konnection Software. Not only does it provide bin inventory management and traceability to our customers, it can also provide help to improve harvest decisions, grain quality and customer service. For producers (farmers), KTrack sends texts and emails of ticket data upon weigh out. KTrack will even send a message if trucks are onsite longer than usual (and perhaps having trouble) or as bins reach capacity to reduce the chances of slugging. Bin graphics to commodities, volume and grade factors are available and easy to see, use and understand for operators of grain facilities.
KTrack improves inventory management and provides "one step back/one step forward" traceability as required by the 2002 Bioterrorism Act and by processors due to FSMA.
This software works with existing scale-interface software to assign inbound and outbound tickets to the corresponding destination or source bins. Ticket information from your scale interface is automatically transferred to and from KTrack for seamless operation. KTrack includes easy to use, transfer, clean-out and bin assignment features.
Additionally, KTrack provides bin determination to prevent co-mingling of commodities and helps facilities to segregate commodities by factors such as wet from dry, high protein from regular or low, GMO from non-GMO, etc.
An additional feature of the software includes remote accessibility which can also display multiple locations. This feature can improve overall operational control as well as grain merchandizing.
A unique feature of KTrack is a built-in function to recast traceability records if the original assignments were recoded incorrectly. In home-grown and competitive traceability/bin inventory systems, correcting a mistaken bin assignment can be a nightmare and is usually not even attempted – thus resulting in incorrect data.
The bottom line: KTrack is inexpensive, easy to use and easy to install.
Related posts